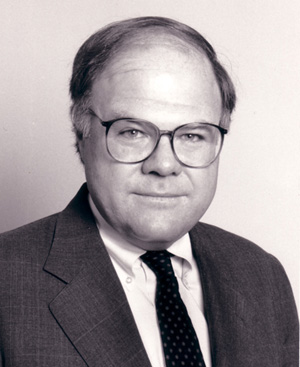 In the hallowed halls of the Soundbite Institute, a distinctive laugh can still be heard bouncing off the walls. Read on to learn more about the person whose mentorship helped lay the foundation for a career at the crossroads of message and mirth.
Remarks OF MARK KATZ
The Kirk O'Donnell Memorial Lecture on American Politics
The Center for National Policy,
Washington D.C. May 10, 2000
I stand before you today as a figment of Kirk O'Donnell's imagination. I say that with complete pride, tinged only with the regret that he didn't make me taller.
In the spring of 1988, Kirk was a big cheese in the Dukakis campaign headquarters and I was a press office punk. But when he discovered there was some kid at the margins of the campaign writing funny campaign entries in the back pages of The Daily Hotline, Kirk sought me out – and put me to work right at the campaign's center.
Often overlooked on Kirk O'Donnell's litany of accomplishment in the name of politics and high purpose is his stewardship of the Dukakis campaign Rapid Response Team. And yet to me, that remains his crowning glory.
Kirk hand-picked a three-man squad of communication specialists whose job it was to prepare responses to rhetorical assaults with speed and wit and the full force of facts. On that team was Andy Savitz, George Stephanopoulos and me, plus our trusty intern, Michael Peterson.
Granted, the Rapid Response Team was not Kirk's most successful undertaking. As political history has well-recorded, our candidate -- an accomplished governor, a great Democrat and admirable human being – never demonstrated a proclivity for hand-to-hand political combat. So despite our best efforts and Kirk's strong leadership, the Dukakis campaign rapid response team was a miserable failure
By mid-June, we dropped the word "Rapid" from our title. By early September, we dropped "Response." By the end of the campaign, we were pretty much just a team of three despondent guys. Our only consolation came four years later when the success of the Clinton campaign's vaunted "War Room" was traced back to the hard lessons learned in the Dukakis campaign's Unilateral Disarmament Room.
So the fact is, I only worked for Kirk for a few short, intense months more than a decade ago -- but in that time, he made in me a friend for life. I was barely twenty-four years and my experiences with him were some of the most formative of my professional career. My connection to Kirk, of course, was a shared and heightened sense of humor. Kirk's great gift was his wisdom. Wisdom is, of course, perspective. And perspective is an essential element of humor.
Even greater than his appreciation for humor was his understanding of its power. Kirk knew it could be the language that communicates candor, honesty, intelligence and maybe even serious purpose. I was born with an instinct to generate humor but Kirk helped me to understand its larger purpose. And I've been practicing those lessons ever since. And his unbridled glee over a funny (but obviously unusable) line taught me that the effort is rarely made in vain.
I've heard many people describe Kirk's bellowing laugh but I'd like to tell you about its particular effect upon me. Just knowing that a funny line I brought into his office might elicit that booming cackle was all the incentive I needed – and on many days, the only satisfaction I got.
Of my favorite memories of Kirk, many involve the circumstances of presenting him with funny material that our candidate or campaign might use. I'll never forget getting a phone call from the plane I received at 3 in the morning at my apartment in Boston. On the other end was Kirk, calling from the plane as it approached Seattle, his voice barely recognizable against the throaty roar of jet engines.
"Mark, we are landing in fifteen minutes for a rally on the tarmac and we need a line for Dukakis to say. I'll call you back in ten minutes." In the few minutes Kirk had allotted me, I wrote eight jokes on the back of a bank statement. Five were non-sequiters, two were cogent and one was funny. When he called back, I read him the funny one, premised in an earlier squabble between the Dukakis and Bush campaigns over the number and format of the candidate debates, which the Bushies were eager to duck.
"You know the Bush campaign's original proposal called for a single debate on November 3 at two in the morning on the tarmac of the Seattle International Airport. Well, here I am! Where is George?"
Kirk's roaring response simultaneously pierced my ear and warmed my heart. "That's great! That's terr-rific." He made me feel like I had single-handedly preserved the surge. I don't think I ever got back to sleep that night. Forty-eight hours later, the American people went to the polls and decided my line wasn't quite funny enough.
But my most treasured memory of Kirk did not involve a moment of levity but one of pure, unapologetic humanity. Throughout the campaign, Kirk was our Dad, the steadfast adult from whom we sought direction, wisdom and approval.
It was the day after election day, when we were packing away our stray papers and broken dreams. Kirk called our team together one last time and closed the door behind us. I remember his words exactly. He said, "Listen to me, you guys: this is not over between us." And then we huddled. In fact, we hugged.
At the very moment our world was disassembling, Kirk gave us permanence. He said explicitly something I had silently hoped was true: that the bond we created was more than a professional relationship specific to that time and place. It was a personal connection minted for life.
Kirk made good on his promise. Over the course of decade, he remained a true friend, staunch champion and wise counsel. Four years after the Dukakis debacle, we shared the delicious pleasure of reading through pages of jokes written for an actual Democratic President of the United States.
Kirk got it right. It was not over between us. And that remains true to this day.
I thank you for the honor you've given me, to share this podium with the very distinguished speakers who will follow and the opportunity to share some of my favorite stories about my friend, Kirk O'Donnell.
###